Description
Fits GE-OEC Elite Image Intensifier.
For 12" (30.5cm) or 9" (23 cm) diameter head.
Shield secured to the image intensifier with straps.
Hook & loop on straps can be adjusted to a full up or down position.
The Nylon fabric is easy to clean.
.5mm Pb Equivalency
Made in USA
Have an GE-OEC Elite CFD? Try Our new Elite CFD lead Shield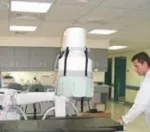 Find our product on Amazon!