Description
The Elite CFD Lead Shield offers important scatter radiation protection. We provide multiple sizes for any model of C-Arm you have.
Fits the new GE-OEC Elite CFD
Easily detachable.
The Nylon fabric is easy to clean.
.5mm Pb Equivalency
Made in USA
Have an GE-OEC Elite Image Intensifier? Try Our Elite Image Intensifier lead Shield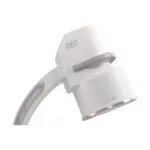 Find our product on Amazon!